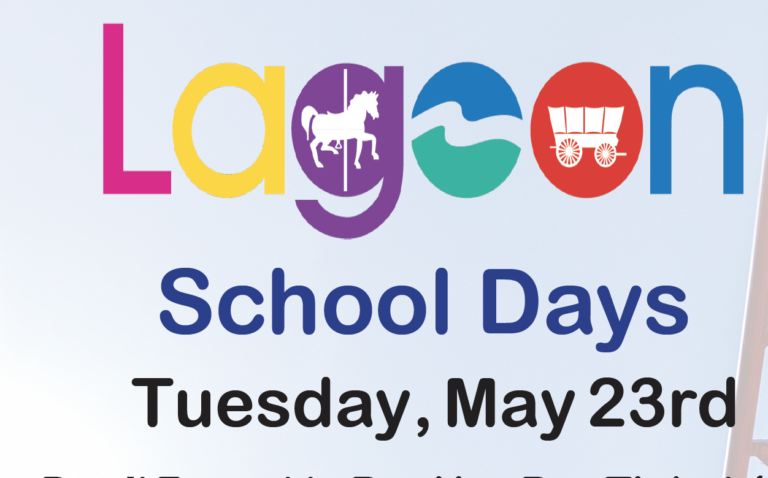 8th Grade Lagoon Day will be held Tuesday, May 23rd. This is an optional field trip. Lagoon will go to their first period class, and then will be called down to the auditorium to check in and load the bus. Students who have educational release please report to the auditorium at 8:15 am.
Students NOT riding the bus home: Please specify this on the permission slip.
Students transported independently to Lagoon: Check out in the Attendance office. These students will not be considered under the supervision of the school.

TO ATTEND LAGOON DAY: (the field trip is optional)

Complete a Permission Slip and Purchase a Bus Ticket

Permission slips and bus tickets are available online May 11th thru May 18th. They will NOT be available after May 18th.

The cost of a Bus ticket is $7 and can be purchased online:

Click here for DPMS Lagoon Permission slip and bus tickets

To ride the same bus as a friend: purchase a ticket for the same bus name.

Bus Names: Mani, Freyr, Sol, Heimdall, Loki, Njord, Odin, Thor, and Jord

Students must ride the bus name assigned on their ticket. All bus selections are final.
Purchase a Lagoon Ticket ($54 online at Lagoon's website or at the gate)
Student tickets can be purchased in advance online. Tickets are $54.00 (including tax).
Tickets purchased with the School Day Discount are only valid for use on May 23, 2023.

Go to Shop.lagoonpark.com, click on "Have a Promo Code?" button in red, enter the Promo Code SCHOOLS23, and select "2023 Student School Day Single Day Pass." Select the number of tickets, and select continue to check out.

Students with digital tickets purchased online will go directly to the Entrance Gates.
Students needing to purchase a ticket in person will go to a ticket window at the park entrance.
If a student already has a pre-purchased season pass to Lagoon, that ticket WILL be valid on DPMS Lagoon Day. No additional ticket will need to be reserved.

Lunch and spending money are the responsibility of the students.
Supervision/Behavior
Our students are expected to conduct themselves in a respectful, responsible, and safe manner. Once at Lagoon, students will be excused from the bus by their supervising teachers. At this point, students are free to enter the park, ride, roam, and enjoy the day. All regular school rules of appropriate behavior are enforced during this activity and while at Lagoon. This also includes dress code. Students are not allowed to leave the Lagoon premises. Students are cautioned that Lagoon Day is considered a school day and should behave accordingly. Lagoon security officers and Farmington Police Department will maintain order in the park. Approximately 20 DPMS teachers, including at least one DPMS administrator, one guidance counselor, and our DARE resource officer will be at Lagoon with the students.
IF STUDENTS ARE NOT ON THE BUS BY 5:00 PM, THEY WILL BE LEFT BEHIND AND WILL NEED TO MAKE ALTERNATIVE ARRANGEMENTS FOR TRANSPORTATION FROM LAGOON TO THEIR HOME. THE BUSES SHOULD ARRIVE BACK AT DPMS BY APPROXIMATELY 6:00PM. YOU WILL NEED TO ARRANGE FOR TRANSPORTATION FROM THE SCHOOL TO YOUR HOM