Draper Park Middle School Viking Scholar 2022-23
The Viking Scholar program is Draper Park's version of the high school Sterling Scholar program, designed to give Draper Park's 8th grade students an opportunity to demonstrate their excellence in a variety of subjects and earn a scholarship from Jordan Credit Union. This is a prestigious, competitive program unique to Draper Park Middle School.
Viking Scholar Important Dates and Deadlines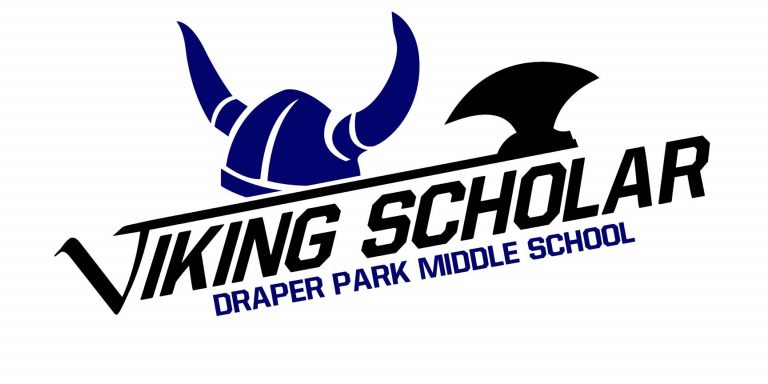 Step 1: Complete application at https://draperpark.canyonsdistrict.org/viking-scholar/
You will need your Canyons School District CSD Docs log-in information in order to access the application.
For this step you will need to know the following:
Which 2 subject categories you wish to apply for
Your grade point average (GPA)
Your citizenship grades
A list of awards, certificates, recognition you have received in your academic career, but preferably in middle school
Information about leadership roles you have held at school or in the community
Why you want to apply for Viking Scholar, written in a one-page, five-paragraph essay
Application Opens: December 16, 2022, 7:30am.
Application Deadline: January 20, 2023, 3:00pm.
Step 2: You will be notified by a letter in the mail if your application advances to the portfolio round. 
Begin building your portfolio by collecting artifacts that demonstrate your skill, interest,
personality, and achievement in the categories you have applied in. 
Portfolios should demonstrate a variety of abilities and knowledge in the subject area. Each subject area has a specific set of guidelines, so be sure to read through all of them before starting to gather the artifacts.
In some categories, such as performing arts and theatre, candidates will be asked to perform a scene from a play or musical, sing a song, or play an instrument in order to demonstrate your proficiency, so this is a good time to start preparing that selection.
Portfolio Deadline: February 24, 2023, Main Office, 3:00pm.
Step 3: If you are selected for the next round, you will be assigned a time when you can interview 
with a panel of your teachers, and, if applying in performing arts, perform a selection that demonstrates your skill in that category.
The interviews and performances will be scheduled on Friday, March 24, 2023.
Step 4: Using the interviews and performances, portfolios, GPA, citizenship, and leadership 
information, candidates will be evaluated and a scholarship recipient will be chosen.
The Viking Scholar luncheon is tentatively scheduled April 27, 2023. 
For additional information or help with any of these steps, please contact your teacher in the subject area in which you are applying, or Mrs. Segura in the main office.
2023 Viking Scholar Portfolios